Posted by Danforth Pewter on Aug 25th 2023
Looking for an anniversary gift for your sweetheart? It can be hard to find something that conveys a message as deep and heartfelt as you feel. Fortunately, we're in the business of handcrafting meaningful gifts that do just that.
Whether you're celebrating your first or your fiftieth, show your love with a gift that will last a lifetime.
1. Hammered Jefferson Cup
This utterly unique piece of drinkware will become a centerpiece to any home bar. Whether you and your honey like to enjoy an evening nightcap, or you only use it for special occasions, this piece will bring mindfulness and quiet satisfaction to your mixology.
Originally designed by Thomas Jefferson, this eight-ounce cup is the Danforth twist: a multi-faceted, hand-hammered finish that reflects light beautifully.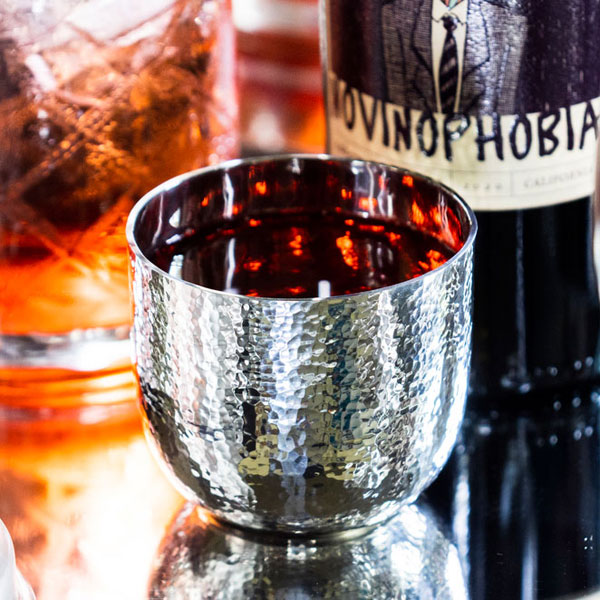 "The traditional tenth anniversary gift is tin, which pewter mostly comprises. These hammered Jefferson Cups are beautiful and a great addition to the bar." —Alex
2. Mariner Oil Lamp
The Mariner Oil Lamp is our most popular Danforth Pewter lamp, in part thanks to the Discover Channel's How It's Made. This piece makes a memorable and special gift for any anniversary, symbolizing the warmth and light that your sweetie brings to you life, as well as providing an intimate ambience for many a future evening together.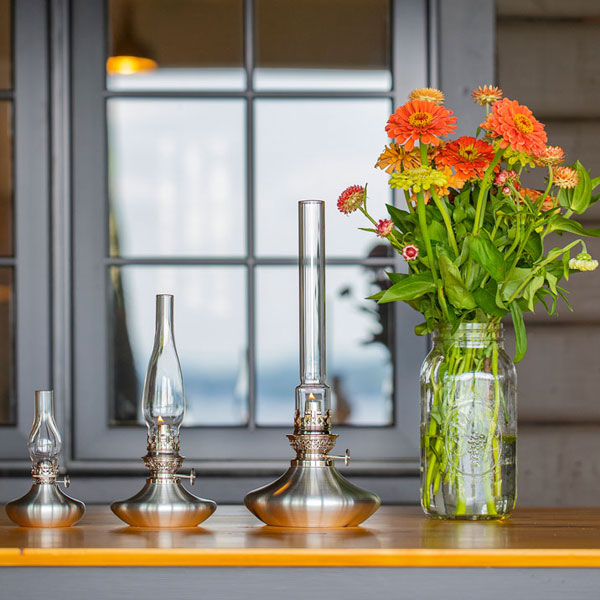 The Mariner Oil Lamp family, pictured from left (small to large): Skipper, Captain, and Mariner Oil Lamp
"I ordered this lamp for my wife...I received a beautifully made piece of art in a very short period of time. She loves it. And I and very happy with your service and the beautiful product."—Norris
3. Federal / Blueberry 4x6 Picture Frame
Preserve your most cherished memories with a handcrafted picture frame. This beautiful piece complements any photo without distracting from it, protecting that memory for a lifetime. This design is available in various colors, including white, pink, and classic pewter.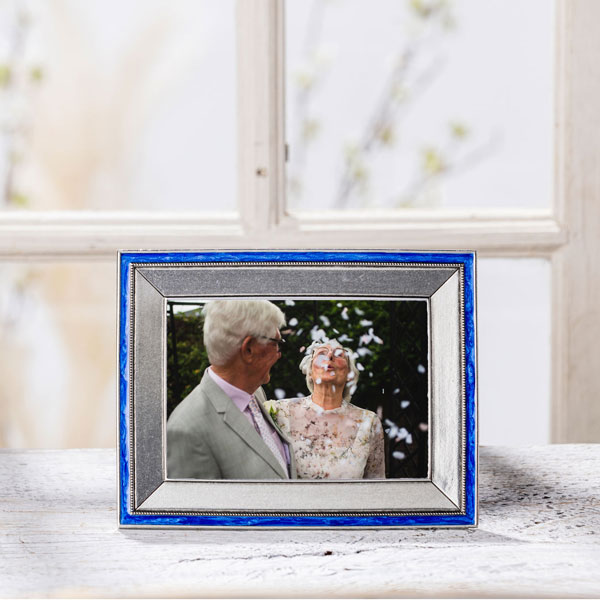 4. Forget-Me-Not and Everlasting Vase
A handspun vase isn't just a gift on the day of the anniversary. Fresh-cut wildflowers, dried roses, a surprise bouquet on a Tuesday: our vases provide a way to show your love for the rest of your lives. In our handspun pewter vases, any blossom becomes a work of art and a reminder of how much you are loved.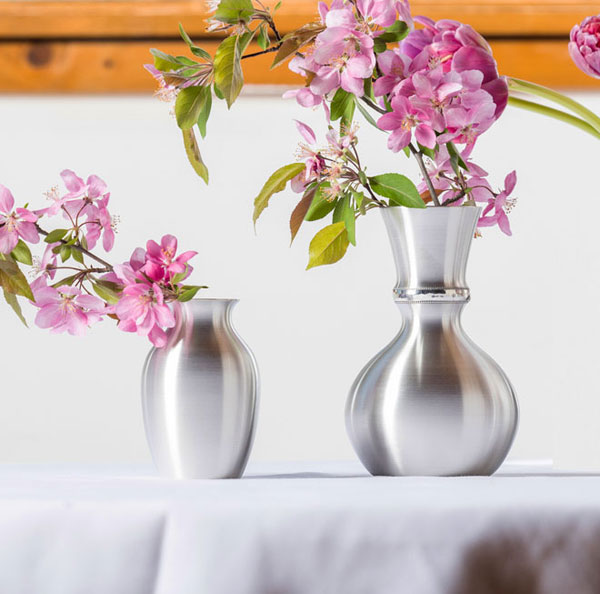 Pictured: Forget-Me-Not Vase (left) and Everlasting Vase
"This was a 10-year anniversary present and...I was very pleased. The couple and their 6-year-old daughter liked it very much." —Jonathan on the Forget-Me-Not Vase
5. Ornaments that start a tradition
Our ornaments are more than mini works of art. They're the stuff of traditions, meant to be shared with loved ones, given and collected for generations.
With over 100 to choose from, in styles ranging from sweet and quirky to sentimental and serious, from Annuals to Bird ornaments, our selection of ornaments makes for a fun and lifelong tradition that's personalizable for you and your sweetheart.
What tradition will you start?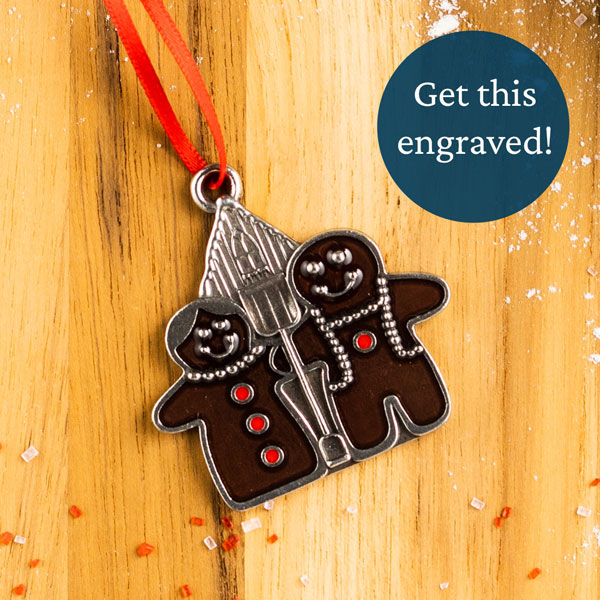 "Beautifully engraved; excellent quality; will make a wonderful gift." —A.Z. on the Gingerbread Gothic Ornament
6. Nativity Set
This remarkable nativity scene was originally designed by the artists at WT Wilson in Rhode Island many years ago, and is now crafted by hand exclusively at our workshop in Middlebury, Vermont. It is especially beloved for the highly intricate detail of each figurine. Their miniature size makes them a wonderful addition to any small space, such as a bookshelf, mantle, or windowsill. Also, it's easy to start a lifelong tradition, because each piece is available individually, and some are available in smaller subsets, such as the Holy Family and the Wisemen Nativity Set.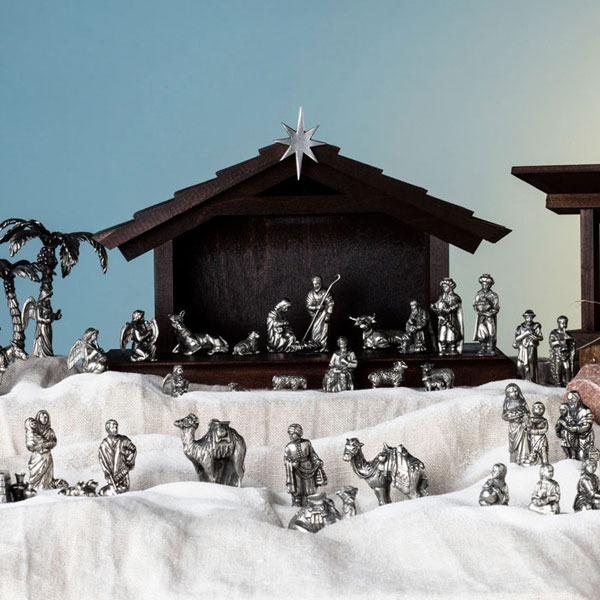 "Beautiful gift. My husband has been adding to my nativity a little each year...I get so many compliments about the beautiful detail in each piece."—Deborah
However you decide to celebrate your love, we wish you and your partner a loving, warm, and heartwarming anniversary.