Here at Danforth, unveiling new products is one of our favorite things.
Our team spends a lot of time imagining, designing, creating and handcrafting new ornaments, jewelry, home decor, and more. Each piece is the result of many, many hours of imagination and handiwork, and we take an enormous amount of pride in each and every one. With each one, our intention is to provide you with beautiful, made-in-America gifts that will become cherished heirlooms and passed down for generations. We also love exploring the capabilities of pewter, just as our founders, Judi and Fred Danforth, loved to do. In fact, they built the whole business on it.
Even though it's only March, an array of exciting new designs have already made their way into the world. Frankly, we're jazzed about them, and based on the response to some of them, it sounds like many of you are, too!
In that spirit, we want to share with you the story of how our 2023 new designs came to be.
WOBBLE CHICKS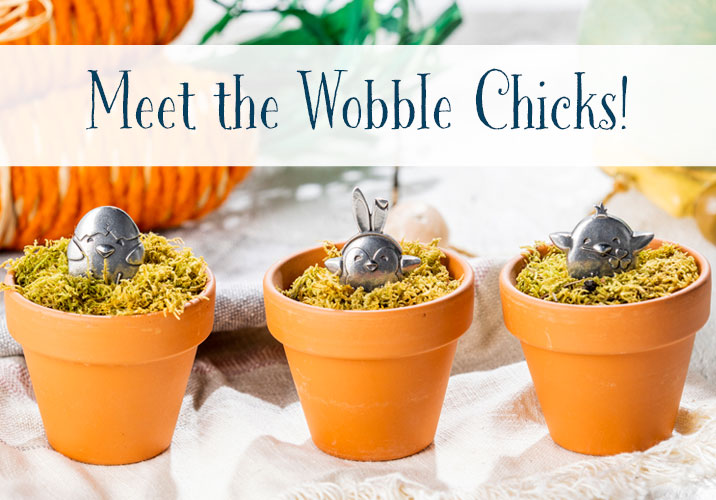 You may have already met the newest members of our Wobble family: Newt, Poppy, and Lucky! These three chicks are so excited to be here just in time for spring. You can read their individual stores on their individual pages.
The Wobble Chicks were the brainchild of our lead designer Tim Copeland, springing (ha!) off the popularity of 2022's Wobble Bunnies. Clover, Lupine, and Daisy were such a big hit, not only around Easter but all year around, that we knew we had to invite more critters like them into the Danforth family.
We hope these three Chicks will wobble into your homes, hearts, and traditions just as well as the Bunnies did.
HAIKU / DRAGONFLY & BUTTERFLY ORNAMENTS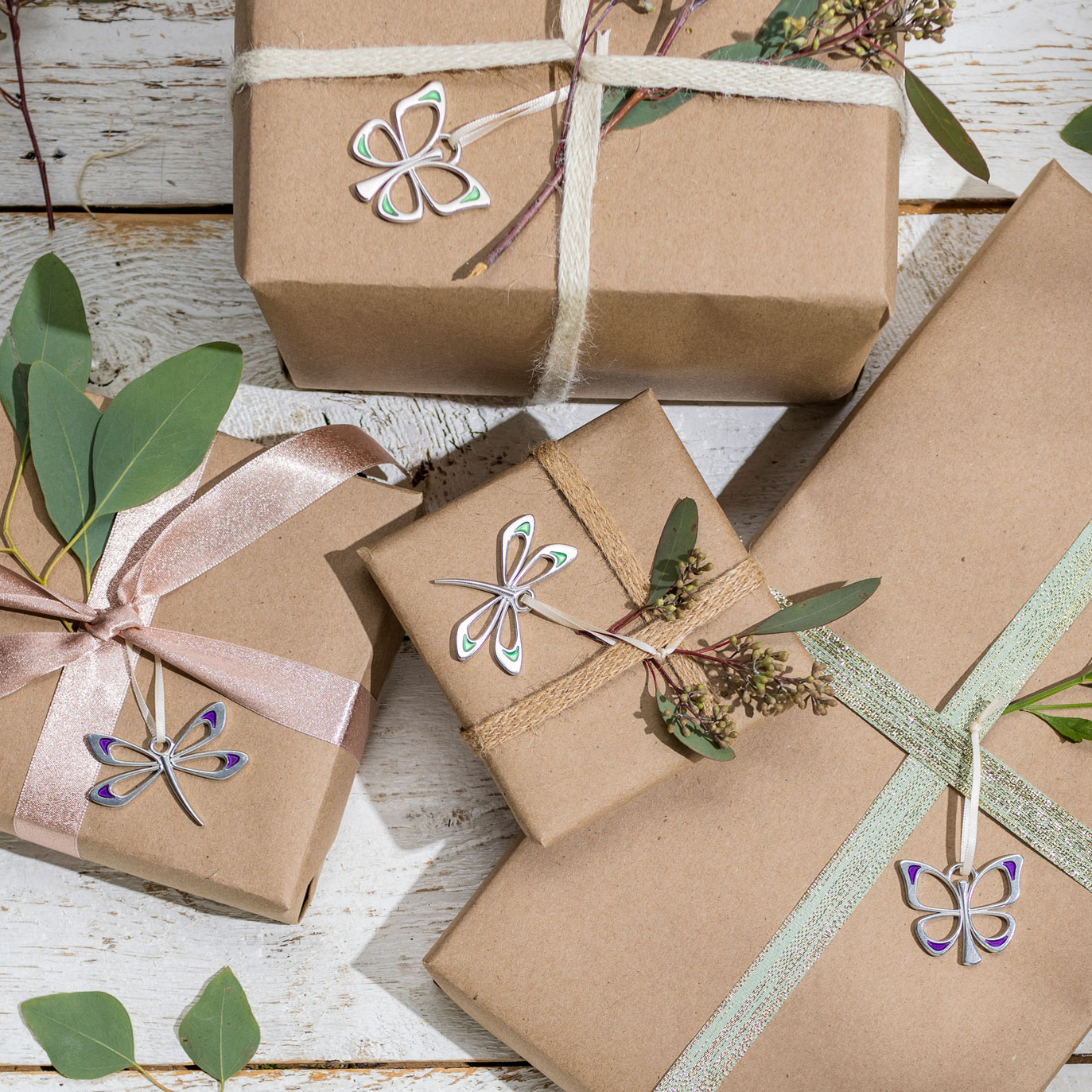 Given our commitment to craft, we're always looking for new ways to use pewter. That means:
Branching off from our tried-and-true styles
Experimenting with what pewter can do when we try different shapes or textures
Playing with the interplay of light, color, and pewter
Taking inspiration from other art forms, such as folk art
One result of all this exploration is our brand new Haiku Ornaments.
The Japanese style of poetry, haiku, is known for its ability to isolate a moment in nature so that we can appreciate the beauty within. The haiku is a reminder to pause, observe, and find meaning in each moment, and we hope these designs will inspire you to do that, too.
These make gorgeous silhouettes hung in windows, from houseplants, on vases or bouquets of flowers, and (as shown here), as the "bow" on a gift.
MOTHERHOOD KNOT ORNAMENT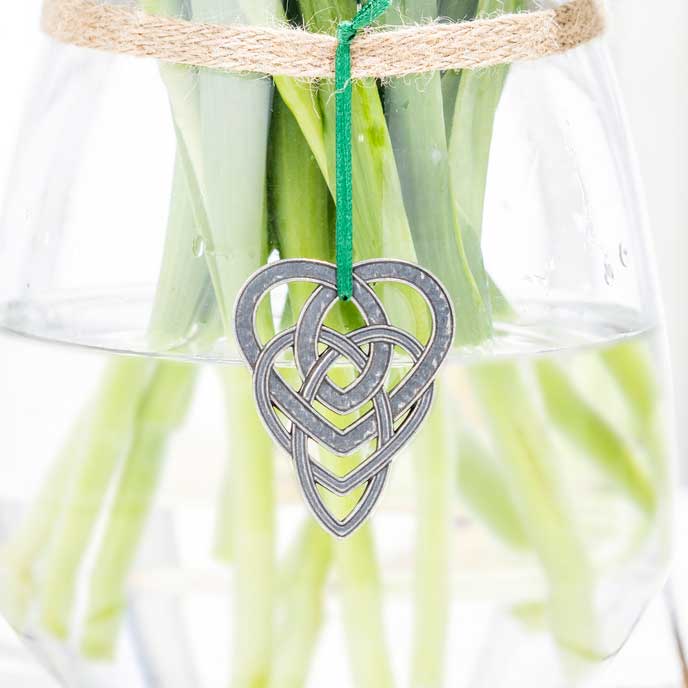 Celtic-themed designs have long been a core part of our repertoire. That's because we value the meaning behind the Celtic symbols: oneness of spirit, stages of life, and infinite love. We also know that many of our customers value those things too, and many of them love to celebrate their Irish heritage, especially around St. Patrick's Day. Also, Celtic patterns show up beautifully in pewter!
Our new Motherhood Knot Ornament is designed to revere and celebrate motherhood in all its forms. The graceful curves and textures of this ornament make it a lovely addition to any home decor, not just at Christmastime, but year-round.
This design was an opportunity to play with the reflective texture of hammered pewter. We are thrilled with how this design came out, and we hope you (and the mothers in your life) are, too.
THREE NEW HEART-THEMED DESIGNS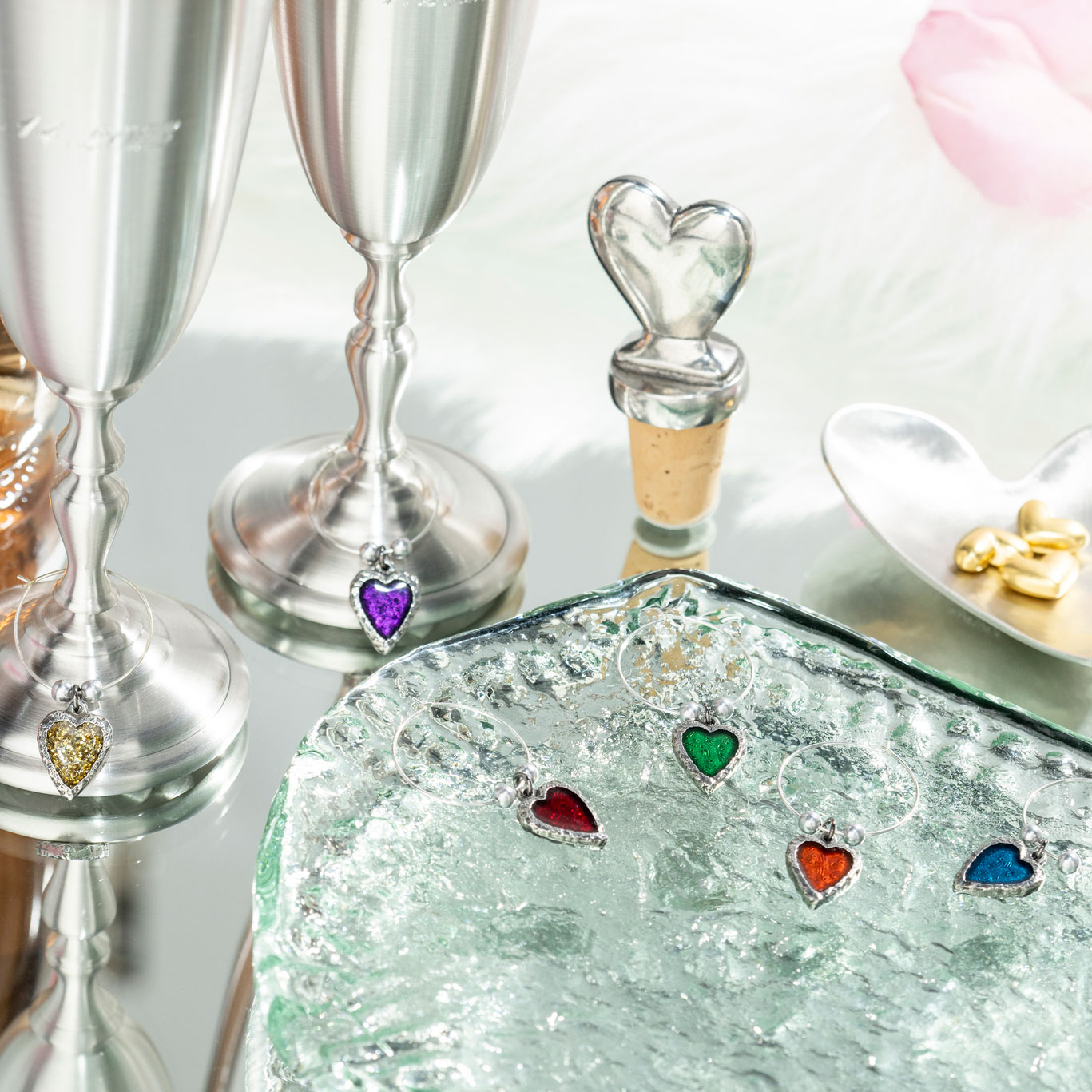 These were popular gifts around Valentine's Day, and we hope they'll continue to bring romance and joy whenever you need wedding gifts, anniversary gifts, or gifts for any other occasion that show your love.
BARRED OWL ORNAMENT & KEYRING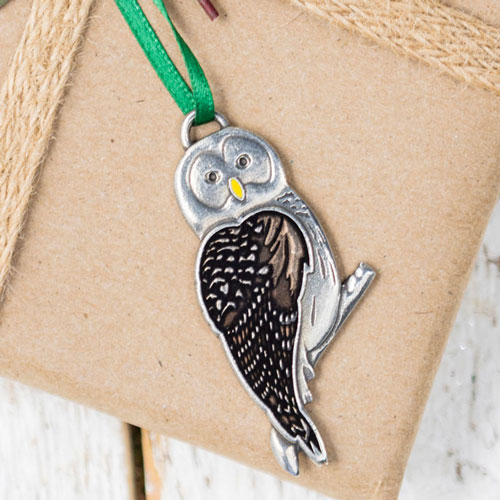 Birders around the world have come to love our Bird Ornament collection. Ranging from songbirds to waterfowl to birds of prey, from the fierce red of the Northern cardinal to the muted blue-gray of the Tufted Titmouse, the Danforth Bird Ornament line honors the beauty of our avian friends in all their color, detail, and personality.
Joining this collection in 2023 is the Barred Owl Ornament (also available as a keyring).
This ornament design captures the exquisite pattern of the beautiful barred owl.
A symbol of peace, and wisdom, and the beauty of nature, the barred owl is a favorite of many birders, hikers, and other outdoor lovers. It makes a lovely gift for anyone who loves the natural world.
We sincerely hope that our handcrafted designs bring meaning, mindfulness, and smiles into your life.
We love hearing what you have to say! If you've bought one of these new products, please consider leaving us a review. To do so, head to danforthpewter.com and search for the product page. Writing reviews is a quick yet effective way to help support small businesses.
If you can't in good faith leave a positive review, please feel free to reach out to Customer Service at (800) 222-3142 or info@danforthpewter.com. They're there to help make sure you're completely satisfied with your purchase.