Buying gifts for loved ones can be a chore…or it can be a joy. When you come upon that perfect gift, it's so fun to imagine that look of surprised delight on their face when they open it. The look that says "Where did you find this?" and "Wow, you really know me." It's that moment that captures the joy of gift-giving; it's what makes giving more fun than receiving.
Moments like those are what keep us hard at work here at Danforth, designing and handcrafting unique, fun, surprising gifts that will create exactly that feeling.
With that in mind, here are twelve fun and creative stocking stuffer ideas to help you spread (and feel) some holiday delight.
GNOMES
Whether you're a lifelong gnome collector or it's your first time looking, it's hard not to smile when you see these adorable creatures. Lilla, Gron, Aiko, and Bimpni go anywhere in the home that can use a little extra whimsy—think bookshelf, kitchen shelf, workspace, or fairy garden—and serve as fun reminders to stay playful, use your imagination, and say yes to the life's next adventure.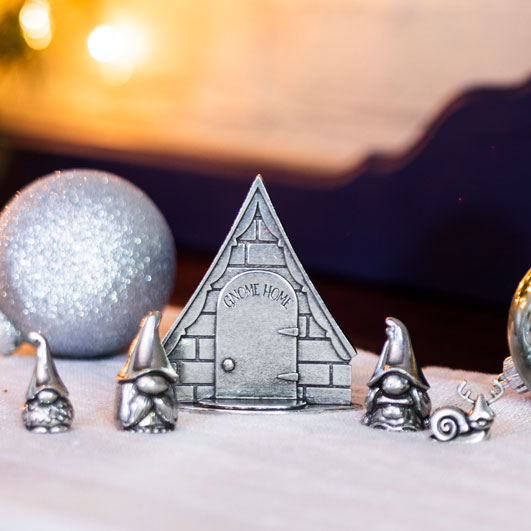 WOBBLE BUNNIES
Like the Gnomes, our Wobble Bunnies came to Danforth as a surprise and a delight! Daisy, Clover, and Lupine wobbled into our workshop in the spring of 2022, and they stole our hearts right away.
These little creatures don't like to stay still! They want to come along wherever you go and keep you company while you work, wobbling all the way. They're here to bring a new surprise to your Christmas stocking, Advent calendar, or Easter basket, and bring a smile to your family's faces. Keep them on your desk to keep you company at work!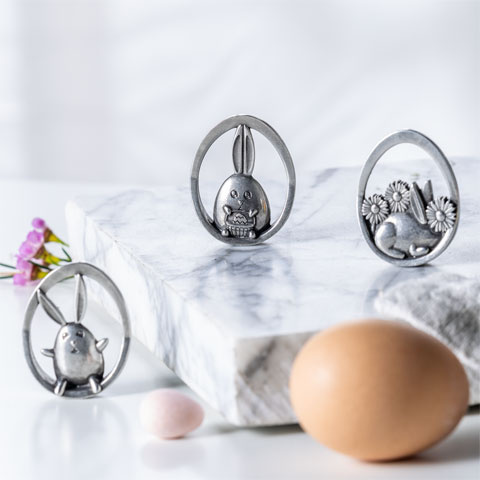 HEADS / TAILS DECISION COINS
Our unique heads/tails coins are fun gifts for the indecisive person in your life, and/or for anyone who loves to play games. These coins can be used in sports games, board games, and even used to "referee" your Secret Santa gift exchange!
"I used this coin to play a game for White Elephant prizes. Heads you open a prize from the pile. Tails you steal an opened prize and that person opens another from the pile. Everyone loved it." –Gail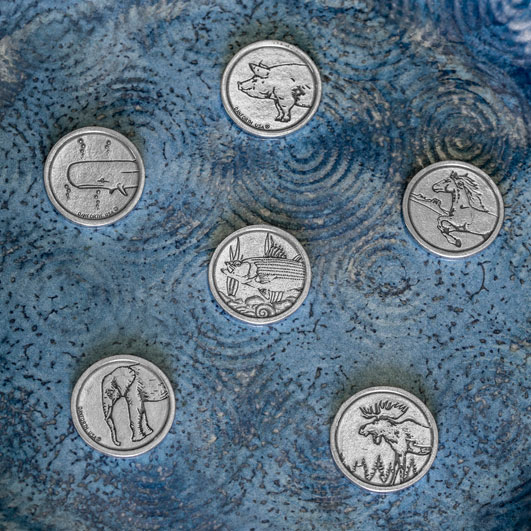 CUFFLINKS
Our handcrafted cufflinks are both classic and quirky, elegant and fun. They match any formal outfit, while still maintaining an artistic appeal, making them ideal for both black-tie affairs and casual events.
Along with its sister design Riversong, Oceansong (pictured) was inspired by Frank Lloyd Wright's organic architecture, which sought to find harmony between humanity and nature. Both designs are available as jewelry and even coffee scoops (which make great stocking stuffers, too)!
NETSUKES
What's a netsuke, you ask? In Japanese tradition, netsukes ("net-skees") are mini animal figurines tied onto the sash of a kimono. The Danforth twist on netsukes is these adorable pocket collectibles. Keep them on your desk to play with when you need a break. Use them as game pieces. Surprise a friend, start a collection — there's no limit to what you can do with your Danforth netsukes!
From the sweet Hedgehog (pictured) to the wise Owl and the patient Turtle, there's a Netsuke for everyone. They're sold separately and also in sets such as Farm Friends and Forest Friends.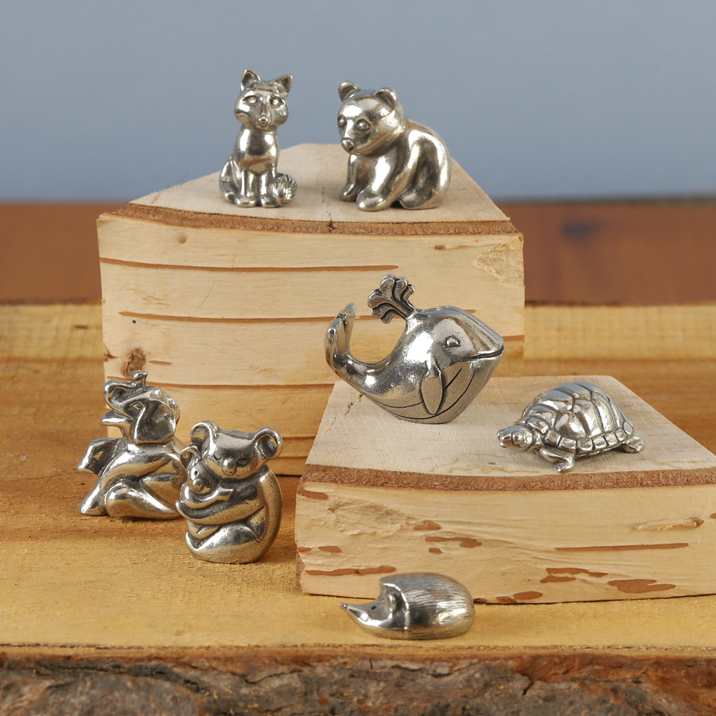 DOG FIGURINES
These pewter dog figurines are designed in over a dozen popular breeds as a token of love and appreciation for our canine friends. From lab to boxer to German Shepherd, these pups will keep you company on your desk to remind you to be playful and loyal (and who's waiting to greet you when you're done working!). These handcrafted pieces make thoughtful gifts for dog lovers, pet owners, anyone who has lost a dog, and anyone with cherished memories of a furry friend.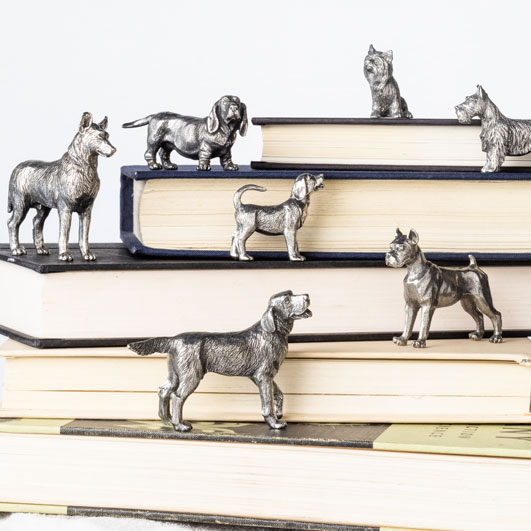 PERSONALIZED ORNAMENTS
With over 70 to choose from, our engravable ornaments are a wonderful way to start and carry on a tradition. Some people unwrap a new ornament every Christmas Eve; others use them to denote seating assignments at holiday dinners. Others love picking out one special ornament according to the recipients' taste: for the baker, the birder, the hiker, the new parent, the firefighter, the new homeowner, the beach bum, the sailor...we've got one for every taste and style.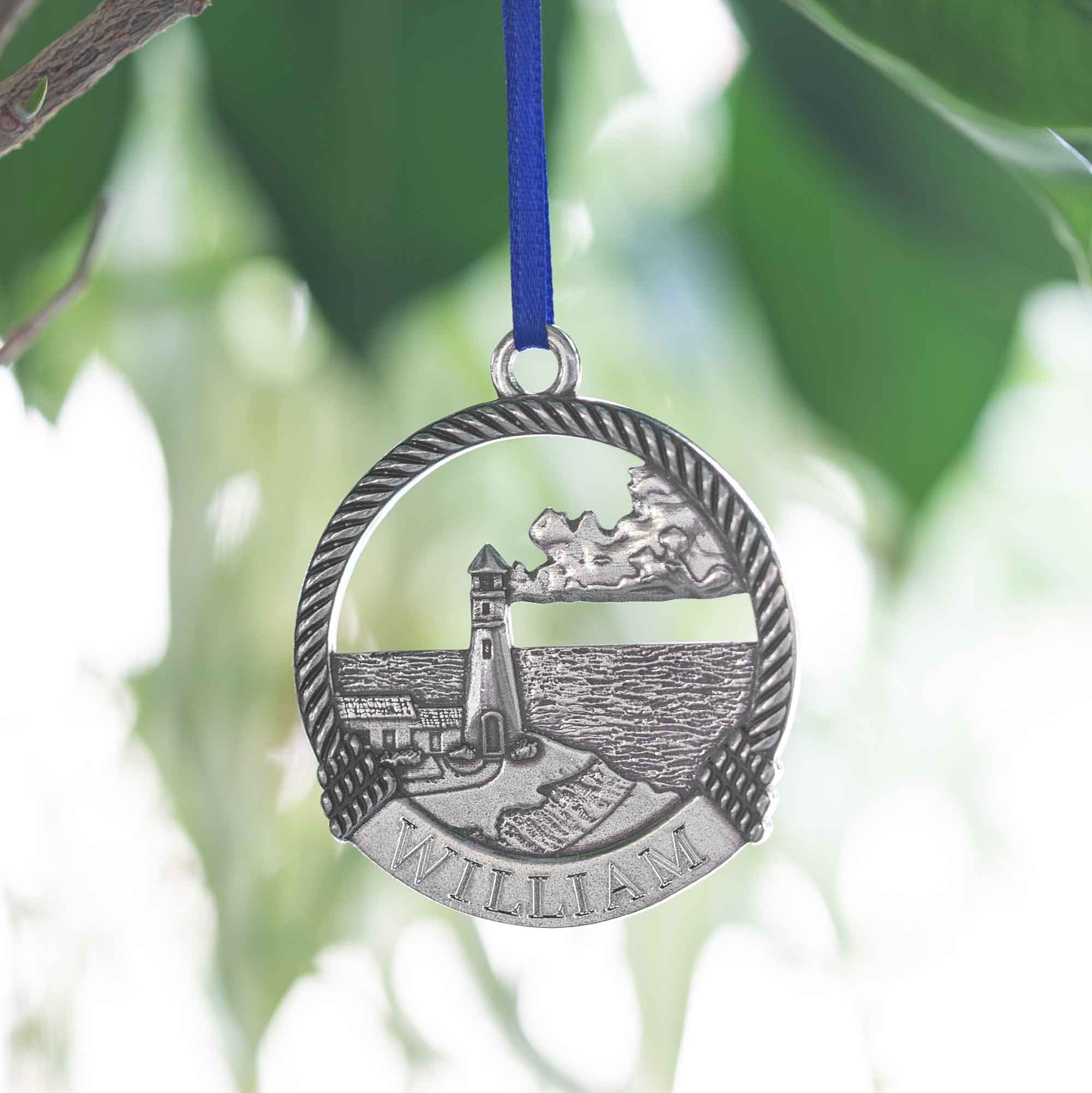 TEA INFUSERS
"Tea is not something that you pour with unawareness and drink like any other drink… [Tea] is meditation; it is prayer." —Osho
The Purple Iris is said to impart wisdom and compliments, symbolizing heaven, strength, and royalty. We also make tea infusers with a cardinal (symbolizing a visit from a loved one who has passed), a dragonfly (symbolizing transformation and hope), a maple leaf (a testament to our glorious New England autumns), and a teapot (symbolizing the joy and peacefulness of tea!).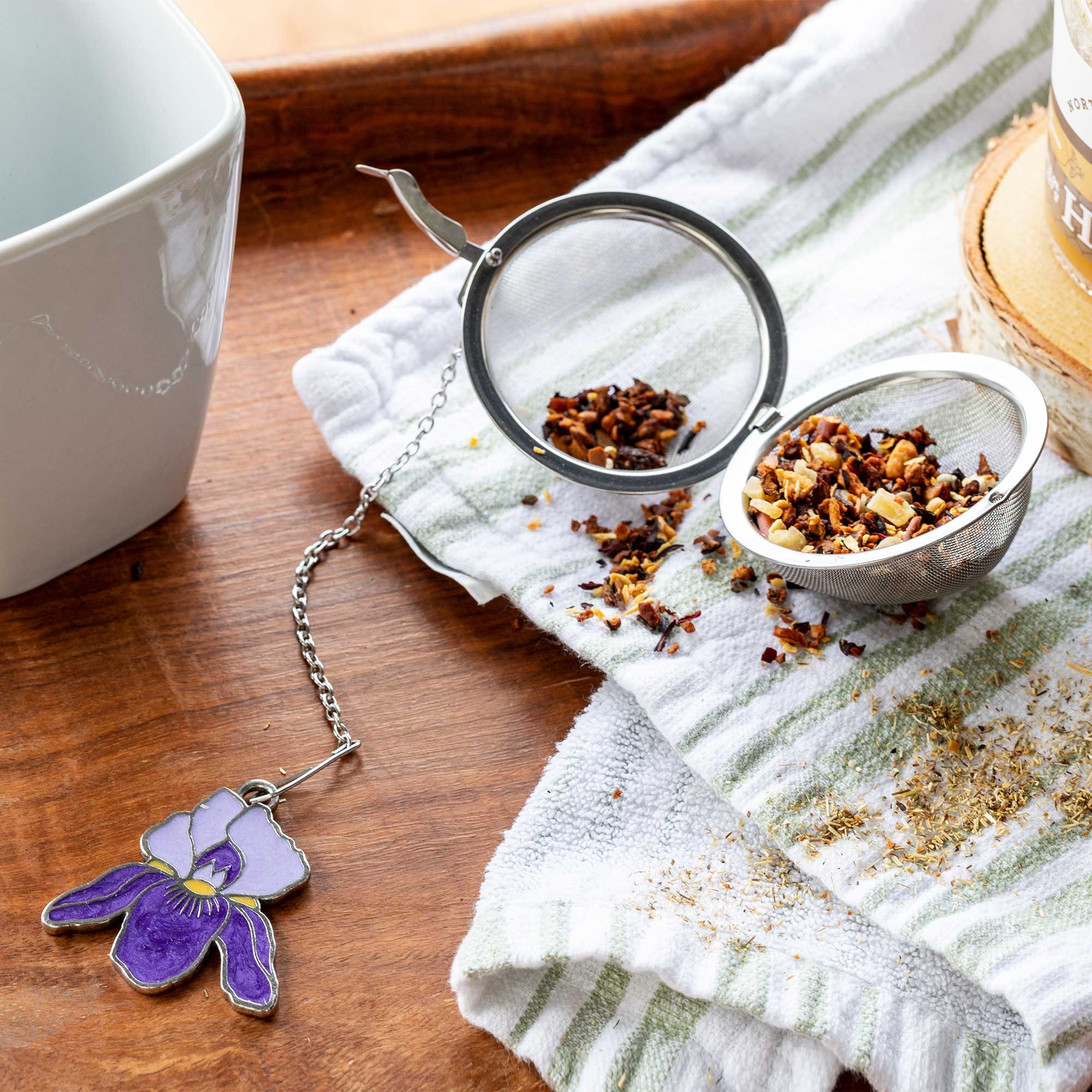 MINI NECKLACES
These delicate pieces make wonderful gifts for teenagers, tweens, flower girls, bridesmaids, or anyone with a subtle, minimalist style. The handcast pendants on these necklaces range from 3/8" to an inch long. They are lovely when paired with other necklaces, or stand on their own. These two necklaces, Gem / Moss and Gem / Sky, are popular sellers and are crafted to last a lifetime.
Pewter makes a great choice for even those with sensitive skin because it is lead-free, nickel-free, and hypoallergenic.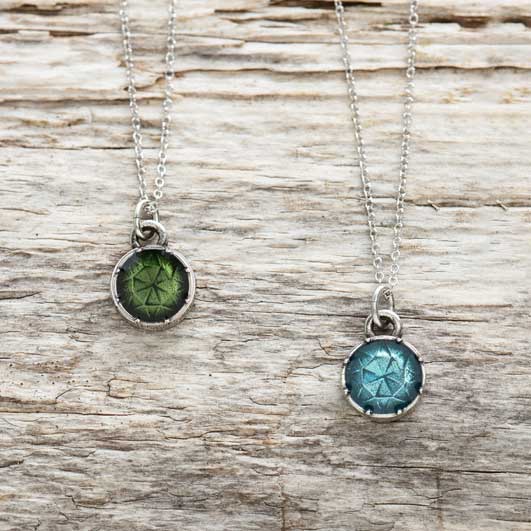 SNOWFLAKE BENTLEY 2022 ORNAMENT
In 1885, the self-educated Vermont farmer Wilson A. Bentley became the first person to photograph a single snow crystal. "Snowflake" Bentley would make history for his work capturing over 5000 snowflakes on camera—and he never found two alike.
Today, Danforth Pewter has the rare privilege of being commissioned by the Jericho, Vermont Historical Society to create gorgeous ornaments and jewelry based on Bentley's images. We release one limited-edition Snowflake Bentley design every year, so they make for a wonderful tradition of collecting snowflakes over time. A portion of all sales supports the Historical Society.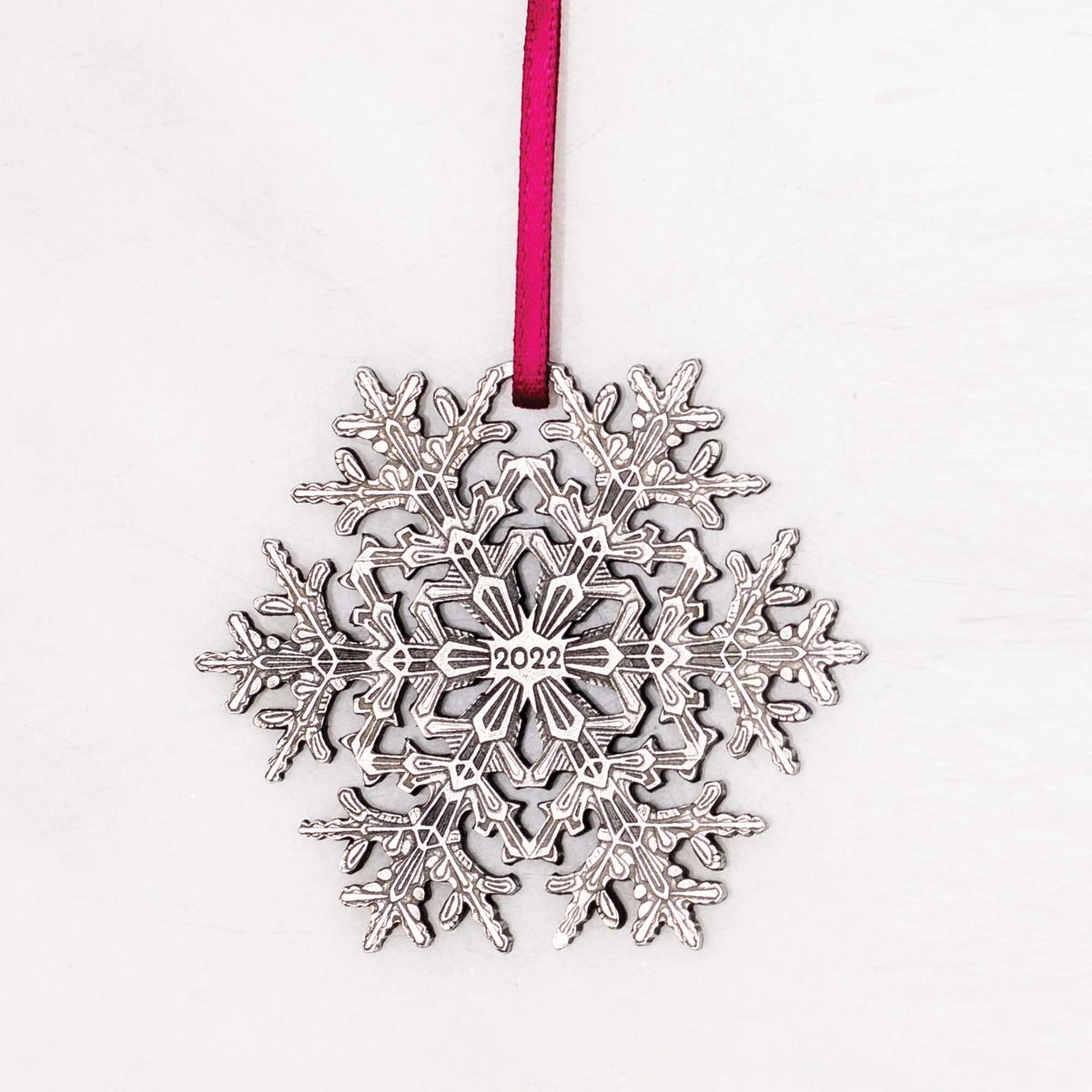 REMEMBRANCE POPPY DESIGNS
A symbol of hope for a peaceful future, the poppy is often worn to honor the brave men and women who have served our country. Show your support for all those who have sacrificed with this meaningful collection.
The Remembrance Poppy ornament and keyring can be engraved with a name, date, or special saying, so you can make your gift or keepsake personal.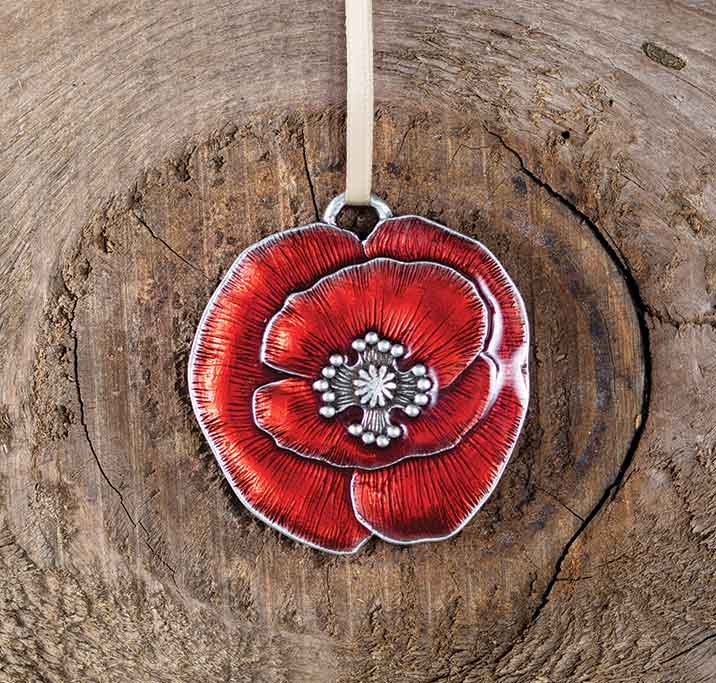 KEYRINGS FOR EVERY TASTE
Like our ornaments, our selection of keyrings has something for everyone--from the yoga lover to the gardener, the birder to the ice cream lover, the camping enthusiast to the photographer to the golfer, there's a keyring for everyone on your list.
Like everything we sell, our keyrings are handcrafted from the finest pewter and made to last a lifetime. With their satisfying weight and high-quality craftsmanship, you'll notice the difference right away from factory-made keyrings. Our hope is that by carrying around something so thoughtfully designed and crafted, you'll bring a little extra mindfulness into your day.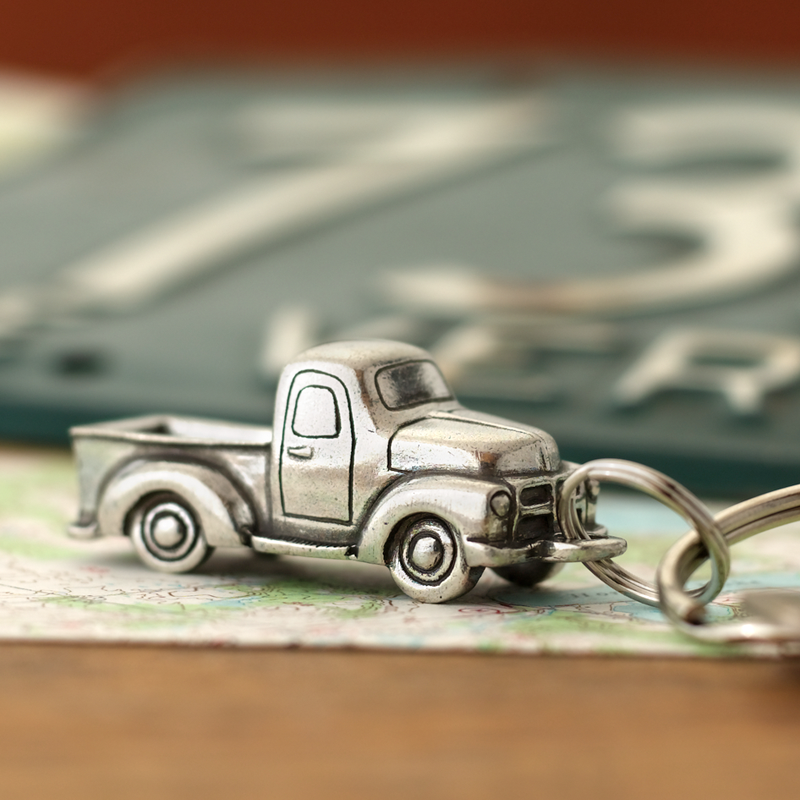 We hope these ideas will help you let your friends and family know just how dear they are to you. We wish you lots of joyful moments full of warmth, wonder, and love, this holiday season and always.
To stay on top of Danforth news, giveaways, new products, and more, be sure to sign up for our newsletter here. We'll also announce those things on social media, so follow us on Facebook, Instagram, and Pinterest!