Posted by Danforth Pewter on Nov 16th 2022
Looking for thoughtful gifts for that person who's impossible to shop for? Whether it's that friend who has everything, that cousin with eclectic taste, or that child who's just not interested in run-of-the-mill, department-store gifts...we've got you covered.
Here are nine fun, thoughtful, out-of-the-box gift ideas for that person who's hardest to please.
NOAH'S ARK
This set is a unique piece of home decor for the collector or avid Bible reader. The pieces are available as a set and individually, making it easy to create a tradition of gifting one piece every holiday.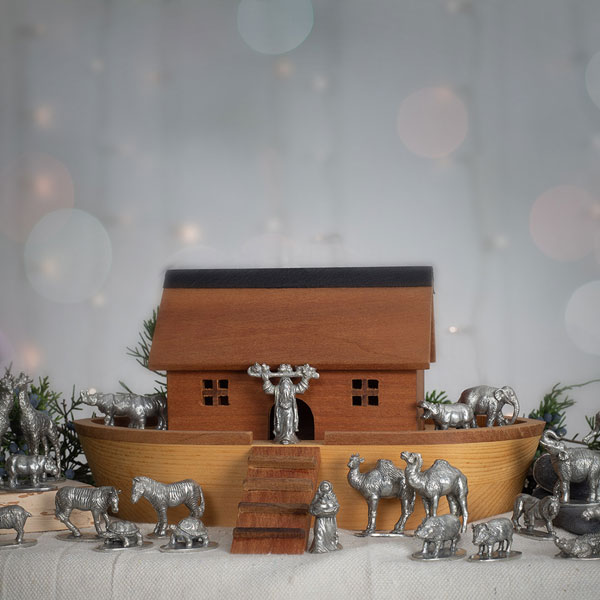 "My wife and I collect Noah's Ark items, many of which are unique in some way, so this set is a perfect addition because it is different from all the others we have. The detail of each piece and craftmanship are outstanding." —Peter
BUT FIRST,...COFFEE COFFEE SCOOP
Handcrafted coffee scoops are a wonderful way to bring mindfulness to a daily ritual. A beautifully designed, nicely weighted scoop can serve as a daily reminder to pay attention to the details and find fulfillment and meaning in everyday moments.
Our newest scoop, But First...Coffee, is a playful gift for anyone who knows they need their cup of joe before they can be expected to do anything else.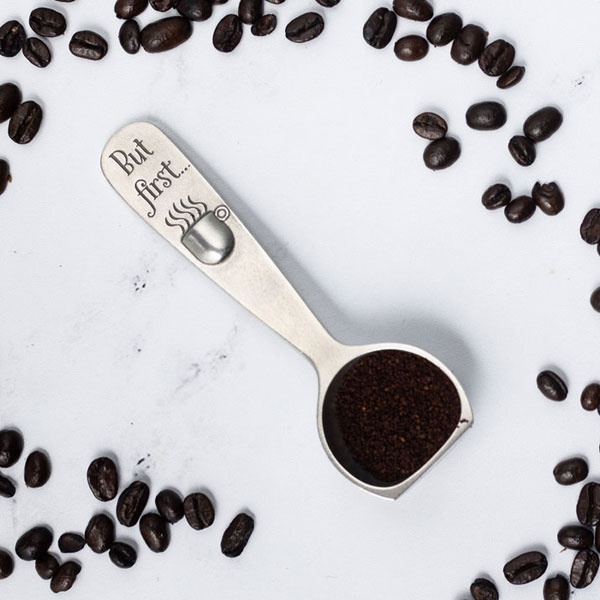 Shop our full array of coffee & tea accessories, including Whale Tail Coffee Scoop, Cardinal Tea Infuser, and more.
FRIENDSHIP TREASURE BOX
A whimsical tree of life full of swirls and branches graces the cover of this treasure box, and inside it, the quote "Friendship is a sheltering tree" (from the poem "Youth and Age," by Samuel Taylor Coleridge). This little treasure is a token of love and friendship as well as a lovely accent on a nightstand, bookshelf, or as desk decor.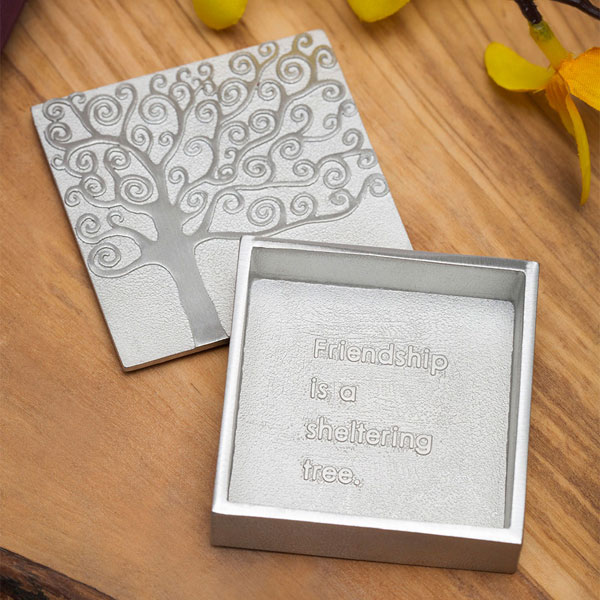 See all our handcrafted treasure trays and boxes here.
HAMMERED JEFFERSON CUP
A twist on the classic Jefferson cup, the hammered and polished finish on this cup beautifully reflects light.
This cup is the third in our series of Jefferson cups. All three are authentic pewter reproductions of one of the eight silver cups designed by Thomas Jefferson and made by the craftsman John Letelier of Richmond, Virginia.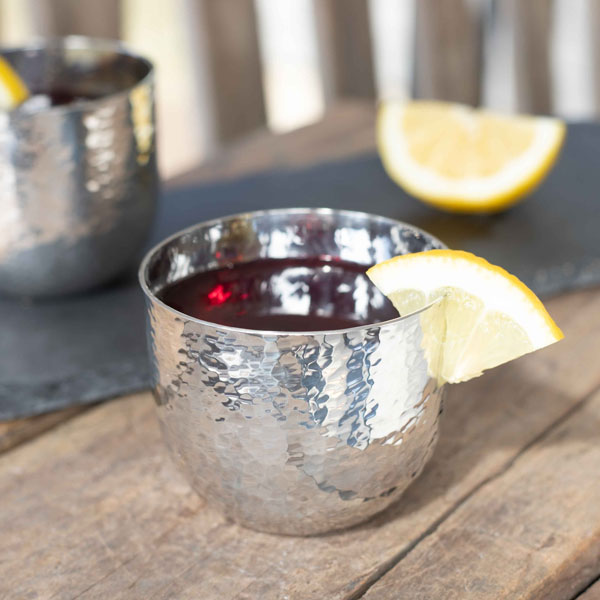 Pewter barware is excellent for cold drinks. The metal retains a pleasant chill and traps in a liquid's coldness, making it perfect for a chilled cocktail, cold beer, or white wine.
HEADS / TAILS DECISION COINS
A fun gift for anyone who struggles making decisions, parents, teachers, or anyone who's worked as a sports referee! Available in six varieties: Pig, Whale, Moose, Bass, Horse, and Elephant.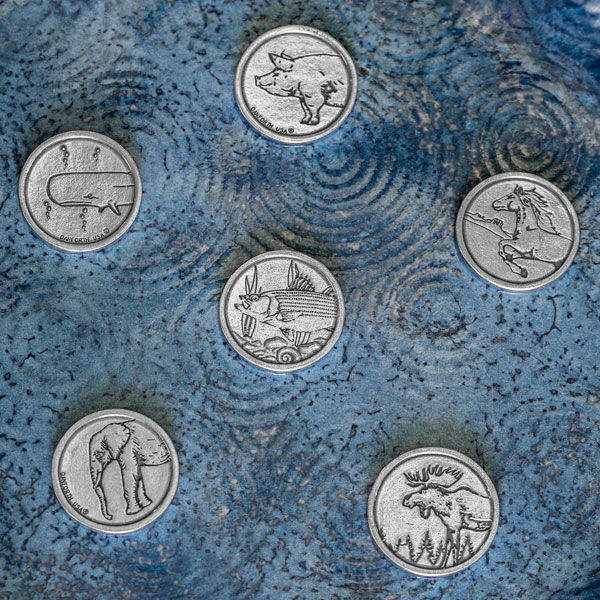 "Whenever you're called on to make up your mind, and you're hampered by not having any, the best way to solve the dilemma, you'll find, is simply by spinning a penny. No - not so that chance shall decide the affair while you're passively standing there moping; but the moment the penny is up in the air, you suddenly know what you're hoping." — Piet Hein
DESK DECOR
For that hard worker, the writer, the scribe, the professor, the work-from-homer, that person who's always at their desk making great things happen. Desk decor is a wonderful way to let someone know you value the work they do.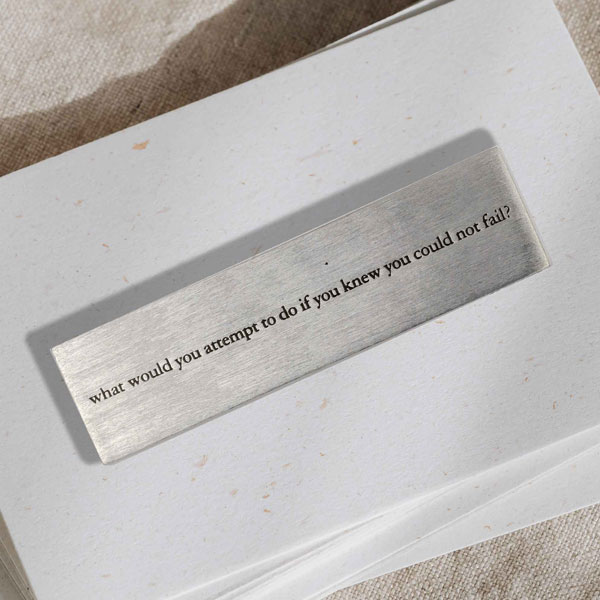 From paperweights to bookmarks to netsukes, our selection of handcrafted home office decor is sure to become a "staple" of your loved ones' daily work life.
OIL LAMPS
Enjoy the light of an oil lamp while you sit on the porch after the evening sunset, read by the fire, or host an intimate gathering with loved ones. Our customers tell us that their lamps become the topic of conversation at many dinner parties with friends and family. A wonderful wedding gift that "lights the way" for newlyweds as they begin their lives together, it also makes a meaningful anniversary gift that honors many years of love and intimacy.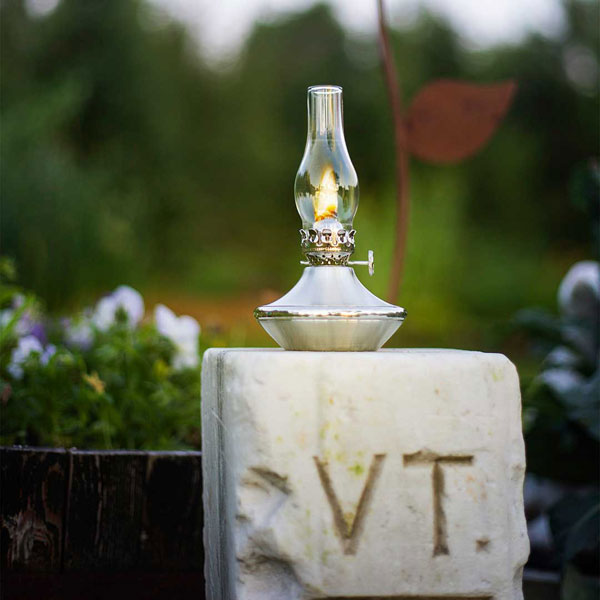 Pictured here is the Cove Oil Lamp, the smallest of the Cape family.
CARDINAL-THEMED GIFTS
For many, a visit from a Northern Cardinal brings a message of solace from a loved one who has passed. Danforth's handcrafted cardinal-themed gifts make thoughtful presents for anyone who loves birds, loves nature, or cherishes the meaning of a visit from a cardinal. Also known as the Virginia Nightingale, the Northern Cardinal, is the official state bird of Illinois, Indiana, Kentucky, North Carolina, Ohio, Virginia, and West Virginia.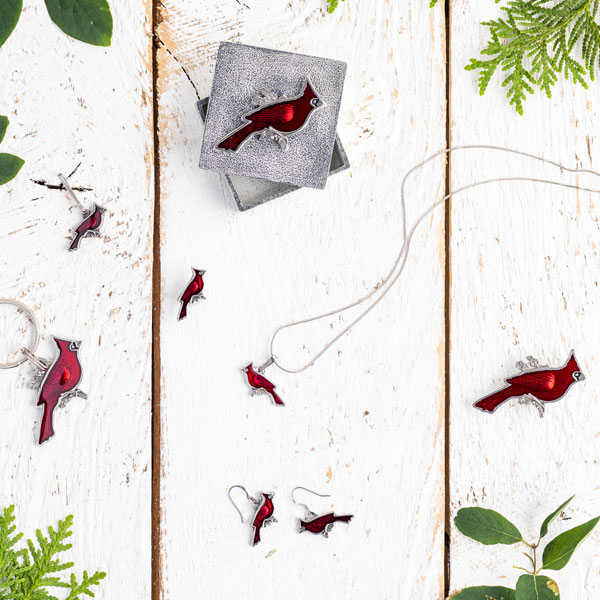 Our cardinal-themed gifts include everything from a zipper pull to a necklace to a tea infuser. See them all here.
DOG FIGURINES
These pewter dog figurines are designed in eight popular breeds as a token of love and appreciation for our canine friends. From lab to boxer to German Shepherd, these pups will keep you company on your desk to remind you to be playful and loyal (and who's waiting to greet you when you're done working!). These handcrafted pieces make thoughtful gifts for dog lovers, pet owners, anyone who has lost a dog, and anyone with cherished memories of a furry friend.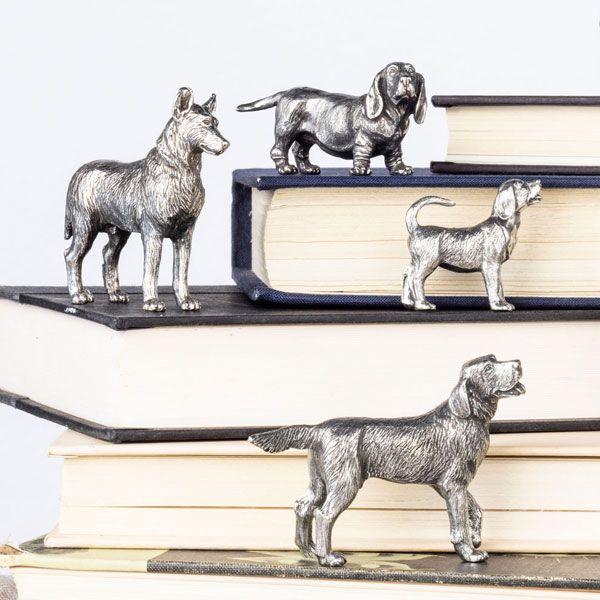 We hope this list has inspired you to find something special to that person who's hard to shop for!
As always, we wish you peace, love, and laughter this holiday season.